See Correction/Clarification at end of article
A Dallas real estate developer aims to build the third-largest office tower in Nashville, eclipsing any building created since the city's most iconic high-rise opened more than 25 years ago.
Lincoln Property Co. has filed plans with Metro for Circle South, a proposed 30-story office tower at the Korean Veterans Boulevard roundabout in SoBro. The building would contain 535,000 square feet of office space, more than the Pinnacle at Symphony Place tower and more than the office tower under construction at the Broadwest site in Midtown.
If created, Circle South would be the biggest office building in Nashville since the twin-spired AT&T Tower opened in 1994.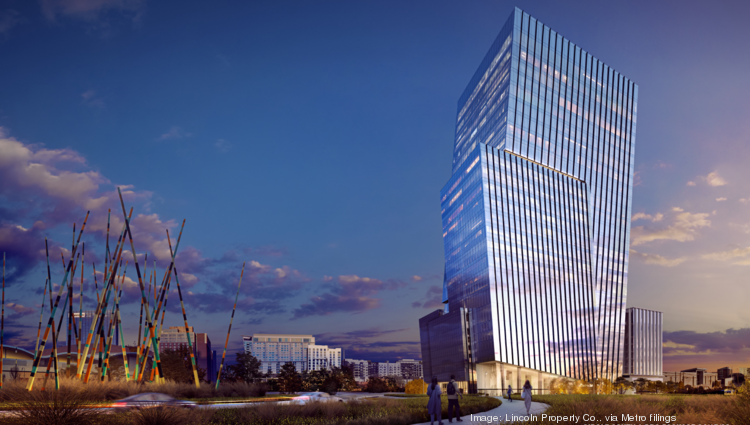 "We look forward to building a world-class development that will have a lasting positive impact on Nashville," Tyler Jones, an executive vice president at Lincoln who leads the Dallas-based company's Nashville office, said in a news release. "We're excited to build on such an ideal site— it provides the access and connectivity needed in a city that is growing more each day."
The proposal speaks to the long-term ambition many office developers still retain for Nashville, even as the city's blitz of office construction surges to a record height in the face of the COVID-19 pandemic. The timing of the filing with Metro is another indication of developers finding ways to press ahead with their plans, fine-tuning designs and working to secure necessary government approvals while waiting for the immense economic uncertainty to subside.
A Lincoln Property spokesman said a projected construction timeline was not available and that company officials were not doing interviews at this time. It was not clear if Lincoln would look to lease a certain amount of space before beginning construction, or if the company would take the riskier step of building without tenants in hand.
The proposed Circle South tower would cost roughly $250 million or more to build, at today's typical prices. Lincoln, founded 55 years ago, has built 140 million square feet of commercial real estate in the U.S. and Europe, plus 212,000 apartments. Lincoln also manages 400 million square feet of commercial space worldwide.
Lincoln paid $27 million for this 1.9-acre development site in fall 2019. Lincoln bought the land from South Rock Ventures, led by Franklin-based real estate investor J. David Byerley. Lincoln and Byerley are doing a joint venture on the Circle South development.
According to Lincoln's plans, the tower would occupy about two-thirds of the property, leaving roughly 0.6 acres for future development.
Lincoln is seeking Metro's permission to build a 30-story tower, which is 14 more than allowed under the site's current "downtown code" zoning. "By increasing this limit to the 30 stories requested, the city will not only enable a landmark project to be built, but also materially improve the public and pedestrian realm, and gain an important pedestrian and vehicular connection between Eighth Avenue [South] and Seventh Avenue [South]," wrote Jeff Kuhnhenn, an architect at Gresham Smith, in a submittal to Metro on behalf of Lincoln.
Metro's Planning Department and the city's downtown code design review committee, housed within that department, are reviewing Lincoln's proposal. A June 4 public hearing date has been scheduled.
https://www.bizjournals.com/nashville/news/2020/04/20/renderings-circle-south-tower-would-be.html